Hi everyone,
A couple of clients have said they are having a strange issue highlighting certain words when adding a hyperlink in the WYSIWYG editor when using Internet Explorer. The user would highlight what they want for the hyperlink and add the hyperlink but the actual link gets shifted to parts of the text they didn't highlight. I have attached 2 screenshots to show you what I mean.
Text that is selected for the hyperlink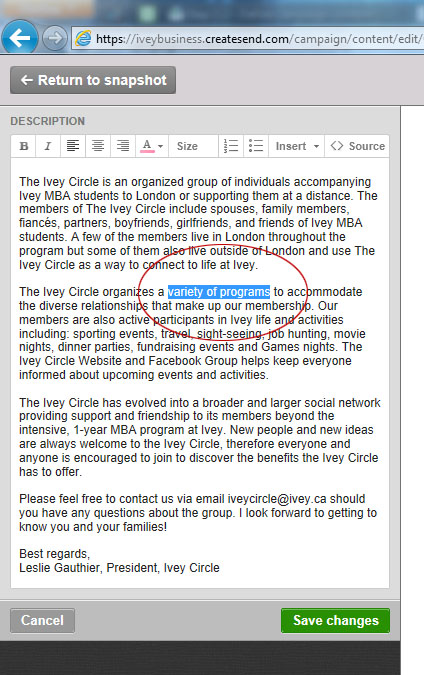 Text that is actually hyperlinked in the end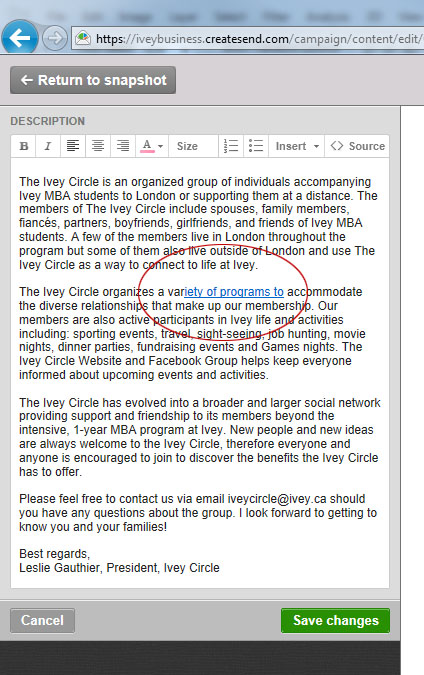 This only seems to be happening in IE 9 (I am using 9 so this might be happening in older versions as well)
Has anyone ever seen this issue or have a solution? Right now I have to tell clients to use Firefox or Chrome.
Thanks,
Chris
Hi Chris, thank you so much for bringing this to our attention and a huge sorry for the strange behaviour here. I've raised this as a bug with our team, so we'll look into reproducing and hopefully, fixing this issue shortly.
This is admittedly the first time I personally come across this issue, so I feel it may be specific to IE9. We haven't had this happen in older versions of IE, or other browsers for that matter.
For now, I'd suggest using another browser if possible (as you mention) - we'll be sure to be in touch when we find a fix. Thanks for the screenshots by the way - they're a big help :)
Hi Ros,
Thanks for the info! I don't use IE so I never came across this issue. It also doesn't happen all the time either so I hope you can duplicate the problem. I have been telling clients to use Firefox or Chrome and that seems to have fixed the problem for now.
Thanks again!
Chris