When it comes to your brand's special events, most of the planning goes into the event itself, and the promotional materials surrounding it.
Usually, that means little time is spent on thanking your attendees for either attending the event or showing interest. One way you can guarantee you're showing your appreciation is by sending confirmation emails for your events.
Confirmation emails come in many different formats, and, to give you an idea of some of the most popular methods, we've compiled a list of 10 confirmation emails for events, with examples, to help you understand what should be included in these types of emails, how to format them, and why we enjoyed each one. You can also check out our event & transactional email templates when you're ready to get started.
Inspiration: confirmation emails for events, with examples
Not quite sure where you should start when it comes to crafting your confirmation emails for events? Read on to discover 10 examples to help inspire your creative process.
1. Meetup
While this isn't exactly a confirmation email for events, the way it's structured makes it worthy of this list.
The image at the top helps to immediately grab the reader's attention—an email design best practice that your marketing team should already be well aware of. It's then followed up with a very simplistic design that guides the reader's eyes to the most pertinent information:
Event title
Event description
Date
Time
From there, the rest of the email simply provides attendees with "helpful options." In an actual confirmation email for events, helpful options may include:
Directions to the event
More information regarding the event, such as dining and hotel options
Relevant background regarding the city in which the event will be held in
That's not all that you can include in a confirmation email for events, and we'll discuss further options as we go through the following examples.
Source: Really Good Emails
2. Eventbrite
This confirmation email for events provided by Eventbrite stood out not only for its unique design, but the fact that they include all relevant information in a clean, organized package.
Before they even get to the official confirmation, they inform the attendee that they can keep their tickets close at hand via the Eventbrite mobile app—a great example of cross-selling and omnichannel marketing.
From there, attendees get all the vital information from the organizer regarding date, time, what to expect at the event, and even a helpful link to a map that gives them directions to the event.
Source: Really Good Emails
3. Mylo
Unfortunately, for some individuals, they may go to sign up for an event, only to be told that the event is sold out. Instead of dampening all hopes of those who were just a little too late, consider creating a waitlist for your event!
In this case, the idea of a waitlist shows your consumers that you're overjoyed that they're interested, but that you also realize that all those who initially signed up won't necessarily be able to make it.
So, if additional spots start to open up for say your next webinar, you can start adding these names and emails to an overflow list or waitlist, making sure they have a spot, should one become available.
This example by Mylo stood out not because it's an event confirmation but showcases how you could implement the idea of a waitlist into your event email marketing campaign. If you're going to implement a waitlist of sorts for your event, you could include the following information in your confirmation email:
Where they stand on the waitlist
What being waitlisted means
Show them that you want them there, and offer up alternative methods to help get you on the list for the next event, should they miss out on this particular event
Source: Pinterest
4. ExactTarget
ExactTarget does a great job of structuring their webinar confirmation event email by keeping things short, sweet, and to the point.
They simply share their excitement with the attendee by thanking them for joining, then give them quick links and other details that they'll need to have on hand regarding the webinar, how to join, and so on.
This method works because, at this point, the person receiving the email already knows the nitty-gritty of the webinar, so they don't need a reminder—at least, not on the initial confirmation.
Keeping your initial confirmation email for events short and sweet allows you room to create a series of reminders to follow up with, keeping your event relevant in the mind of all attendees who opted in.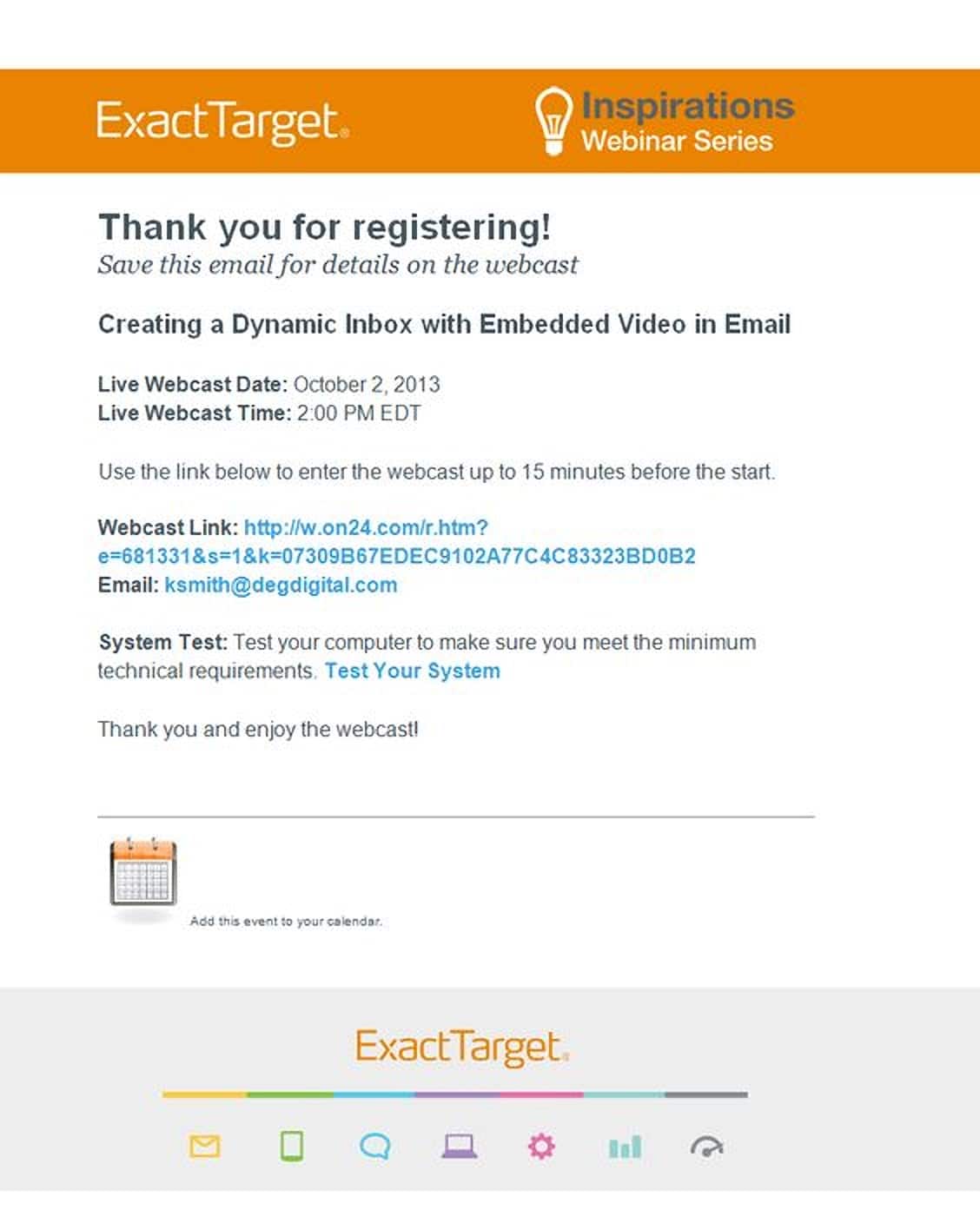 Source: Pinterest
5. Team Beachbody Coach Summit
Not all confirmation event emails are going to be full of bright colors or flashy extras, and some emails aren't going to be designed with HTML in mind.
In fact, many companies decide to format their confirmation event emails in plain text to help simplify not only the message, but make it easy to find any relevant information that an attendee may need on the go.
In this example from Team Beachbody, they opted to keep their email confirmation short, sweet, and to the point—something their attendees surely enjoyed.
The email below is great because it hyperlinks directly to the most essential information that an attendee may need regarding their confirmation and any other pertinent event scheduling information.
These plaintext hyperlinks spell it all out for users, leaving nothing to chance.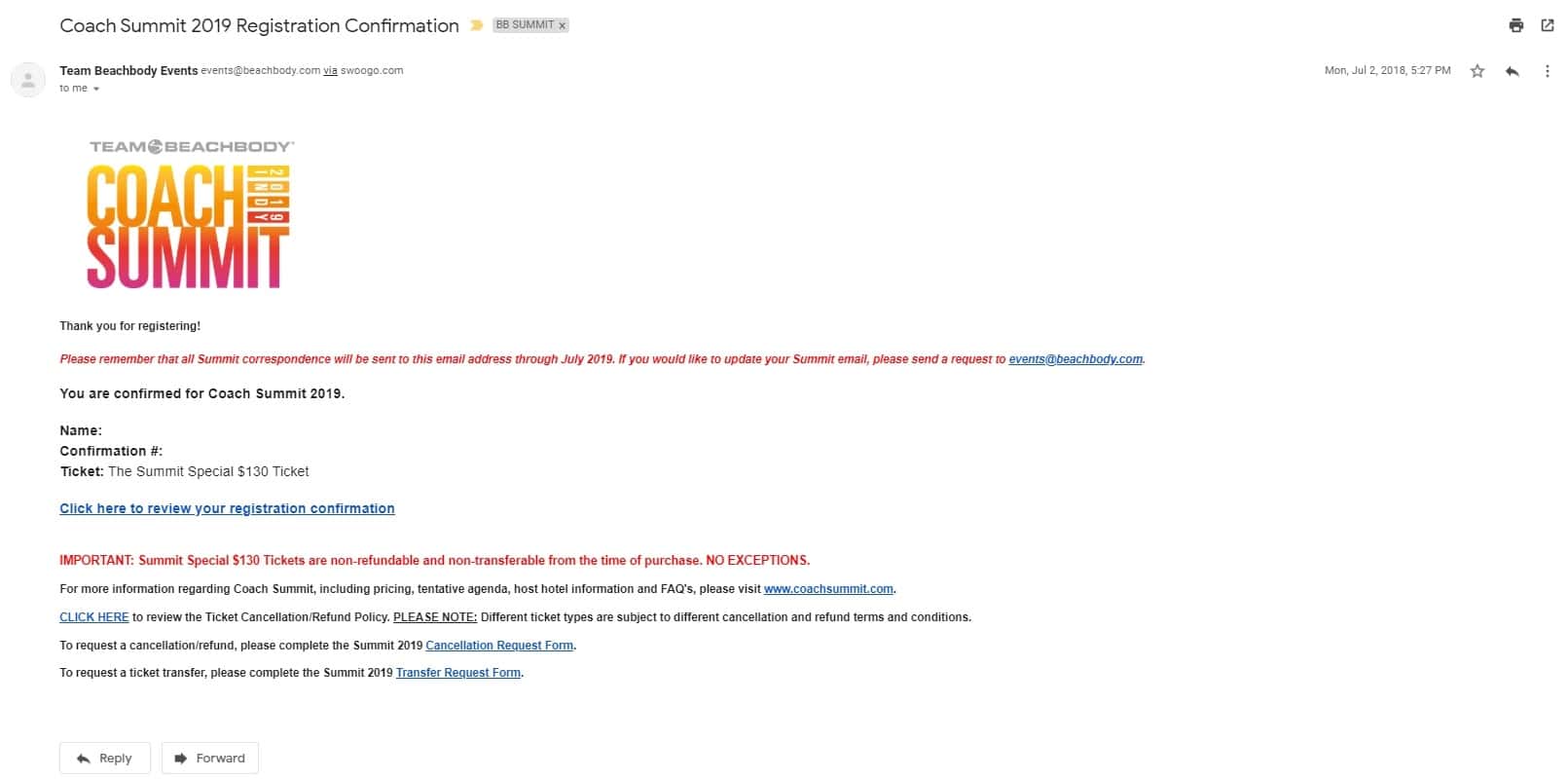 Source: Gmail/Team Beachbody
6. The Hustle
The Hustle did an absolutely wonderful job of designing their email confirmation via Eventbrite and included all the relevant information the attendee will need to have on hand.
The design of this message makes it easy to navigate and helps walk the attendee through everything from getting their tickets, to finding the location and adding it to their personal calendar.
While this email example isn't the flashiest of messages out there, it's 100% functional, something that consumers crave when it comes to confirmation emails that include material such as digital tickets and maps to help them find the event location with ease.
Source: Really Good Emails
7. Apple
Apple's confirmation event email works on several different levels. First of all, we absolutely fell in love with the simplistic design. It draws the reader in and yet highlights essential information.
Attendees not only get a helpful reminder of the event they're attending, but several links allowing the attendee to:
Manage their reservation
Get directions to the event
Add to their personal calendar
"find more to do"
All the important information is presented to the attendee, in black and white (literally), making this event confirmation and reminder email simple to use and easy to remember.
Source: Really Good Emails
8. St. Nicholas Church: Annual Middle Eastern Food Festival
This event confirmation email from St. Nicholas Church regarding their annual Middle Eastern Food Festival works excellently as a quick, simple confirmation for attendees.
However, we really enjoyed that the confirmation also works as a way to further share the event by allowing attendees to share their event confirmation to their personal following via social media.
This is an outstanding way to help spread the word of your event, especially if you have a limited marketing budget to do so.
And, should the attendee choose to share their confirmation with others, the only information that's actually shared is the event, details pertaining to the event, and a helpful link for those who may be interested in attending as well.
Source: Eventbrite
9. Media Evolution
Media Evolution's event confirmation email stood out to us because it works more as a reminder email than the standard "you're in" confirmation email.
This message also stood out to our team because it not only summarizes the day's events, but also allows attendees to browse the program prior to the actual event, giving them a bit of insight on what they can expect to happen.
The option to browse also worked as a great example of a CTA to further engage attendees before the event.

Source: Really Good Emails
10. CSS Conference
This post-conference email confirmation by CSS Conference stood out to us on multiple levels. Not only do they go bold with their color choice, but they keep their confirmation friendly and informative.
Not only do they take the time to compliment the attendee with a little "you're awesome," note, but they maintain professionalism with their thank you message at the start of the email.
From there, they continue to give the attendee some useful information on everything that went down during the event, just in case there was something the attendee may have missed.
Source: Campaign Monitor
Wrap up
Confirmation emails for events come in many different formats, allowing marketing teams to design unique, thoughtful emails that their attendees will appreciate. A few examples we covered today include:
Simple event confirmations
Plaintext event confirmations
Itinerary event confirmations
Waitlisted event confirmations
Reminder event confirmations
Post-conference event confirmations
Webinar event confirmations
Shareable event confirmations
Ready to start designing your next batch of confirmation emails for events with confidence? Check out our free transactional templates and event templates to help refresh your email designs in minutes.