You're planning an important event and you've run into a problem. You've done all the word-of-mouth promoting you can do and need to approach your email list, but you don't know where to start. How do you get people to open your email?
What's the secret formula for getting one step closer to conversions?
Your subject line is the key to success.
If people don't open your email, how will they click your call to action? If they don't click your CTA, how can you convert them?
Read on to discover the importance of event email subject lines, some simple subject line formulas, and 31 real examples of the best event subject lines to help you create powerful subject lines that'll inspire anyone to join your event.
Why event email subject lines are so important
The two most important components of your email content are your subject line and your CTA. Your subject line is what gets people to open your email, and your CTA gets people to join your event.
Write every subject line to entice the subscriber to open the email so they can read your engaging content and CTA.
Here are some common questions we receive about subject lines:
How long should event email subject lines be?
Subject line length varies between email clients, so a simple answer would be to keep them as short as possible. This will account for people reading emails on their mobile devices, which happens for over half of all emails sent. You may only have about 40 characters to encourage readers to open your emails, so use that space (and negative space) wisely.
Should subject lines have emoji in them?
This will depend on your audience. Everyone's list is different, and that means everyone's audience is different. A younger demographic may appreciate emoji in the subject line, whereas an older demographic may find it unappealing. We recommend A/B testing this particular aspect of your email subject lines to see how your audience responds.
What does a compelling subject line look like?
We receive this question frequently, and it depends on a number of factors. First, who's your audience? Are you trying to reach young people for a music festival? Or are you targeting a specific crowd for a nonprofit gala? To help with this, we're giving you some common email subject line formulas, plus real examples of event email subject lines that work.
Common email subject line formulas
Crafting the perfect event email subject line takes time, but not everyone has hours of time to dedicate to a subject line. It can be frustrating to figure out where to start.
Consider the following "formulas" for some situational subject lines that can really amp up your event subject lines. Once you've used some of these formulas a few times, the perfect email subject lines will come more easily.
1. Sense-of-urgency subject line
Great for encouraging action at the end of the wire, email subject lines with a sense of urgency get opened.
Think about offering early-access to tickets to your event and pair it with an email subject line that starts with "Act fast." You can also try calling out things like "early access" or "limited-time access."
Don't overuse email subject lines with a sense of urgency or people will stop responding to them. Use them sparingly for maximum effect.
2. The emotional appeal subject line
Are you planning a nonprofit event to raise money for charity? This is the perfect opportunity to try an emotional appeal subject line.
You can also use an emotional appeal for people who have FOMO (or the fear of missing out). Try a subject line like, "Don't be the last to get tickets." Short and succinct.
The emotional appeal isn't for every brand, but it can be an effective tool in a few special instances. Try combining an emotional appeal with a sense of urgency or promotional offer to see what kind of response you get.
Subject Line: Invest in Yourself. See you in May!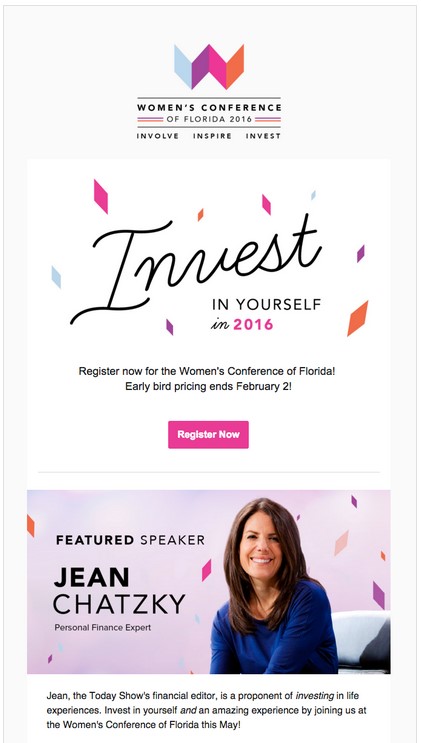 Source: Really Good Emails
3. Promotional offer subject line
Offering discounts and promotional codes for your event is a great way to get people to open your emails. Subject lines with "Save [$xx] today!" may perform well for certain events.
As the sense of urgency emails, use promotional offers sparingly. You should use these as a hook after you've already established the reasons someone wants to join your event.
Other than early-access offers, use these infrequently in your email campaign to make customers feel like they're really getting a deal.
4. Informational subject line
If you're hosting an event with a lineup, you may find that using an email showcasing your headliners or expert speakers is the way to go.
An informational subject line is exactly what it sounds like: a subject line that presents information critical to your customer's decision-making process.
You can also send event emails with informational subject lines prior to your tickets going on sale. It's a great opportunity to get your subscribers interested in your event.
Subject Line: ? Just announced… Aaron Draplin at MU 2017!
Source: Really Good Emails
The 31 best event email subject lines
There are two types of emails you need to send for an event: invitation emails and thank you emails.
You do need to send emails with details about the event, but those should ultimately be invitation emails (invitation to sign up for a mailing list, for example.) Your CTA should be designed, in virtually all communication, to get people to come to your event.
Once people have attended your event, you want to show appreciation for their patronage. This not only makes them feel good, but encourages them to return for your next event.
Here are some examples of the best invitation email subject lines:
And, because thank you emails are important, here are a few stellar examples:
You may notice some trends in these email subject lines. For example, you'll notice a few emoji and two references to a countdown, indicating a sense of urgency.
There are several uses of "save the date," which is a popular phrase in the event industry.
As you may also notice, what constitutes as an event can be ambiguous. Have a special reason to celebrate your customers? Use these event email subject lines for inspiration.
Wrap up
Sending event emails isn't as difficult as it seems; there are some simple guidelines to follow that will make the experience simpler.
A few important takeaways regarding event email subject lines:
Your subject line is the most important component of your email, so spend the most time on it.
Not all subject lines are made the same—use one of our formulas to craft the perfect line for your situation.
Shorter is better—the longer your subject line, the fewer people on mobile devices will be able to read.
All it takes is just a little bit of diligence, patience, and testing. Use our formulas to choose the perfect email subject line strategy, then use these 31 event email subject lines to get inspiration for your next campaign.
Learn more about how Campaign Monitor can help you craft beautiful emails for your next event.