More product updates and enhancements (thanks to customer feedback!)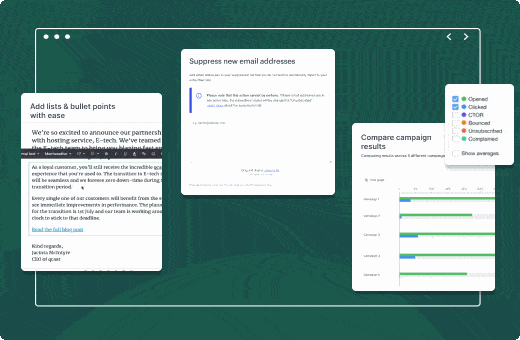 At Campaign Monitor by Marigold, we love being your marketing partner in delivering solutions that better suit your needs. Our team has recently prioritized new product updates and enhancements based on valuable customer feedback. Check out the latest releases:
Bulk upload suppression lists: We know how important it is for marketers to effectively manage their lists – especially when it comes to opt-outs. That's why we've streamlined the process for importing suppressed contacts. In just a few clicks, you can upload and suppress up to 50,000 email addresses. Click here to learn more.
Auto-format lists and bullet points: The email builder now automatically formats lists and bullet points, when you use keyboard shortcuts such as "1", "-" or "*" to create your message.
Refreshed compare campaigns experience: Comparing the performance of your previous campaigns is essential when measuring and maximizing email marketing success. We've improved the compare campaigns experience with an easy-to-scan bar graph, so you can assess, take action and adjust your strategy if needed.
Auto-populate email addresses from email clients: When sending test emails, setting up your reply-to email and removing subscribers, Campaign Monitor will now automatically populate a valid recipient email address when you copy and paste the address from an email client e.g. Full Name <[email protected]>.
See these updates action