Article first published in September 2012, updated July 2019
For many of our customers, sending to multilingual subscribers is kind of a big deal. While we've recently updated our template builder to make it easy to send localized campaigns, wouldn't it be nice if your subscribers could receive newsletters in the language they prefer?
Read on to learn how you can link to a translated version of your email campaign, simply by using a special URL that passes your webversion to Google Translate. While Google's automated translations aren't necessarily spot-on, featuring a 'translate this' link may mean the difference between a reader understanding, or trashing an important message.
Putting Google Translate to work on your newsletters
Let's say you're sending an email announcement to a list of English and Spanish speakers. While the most desirable approach would be to provide content in both languages (as our European customers often do), that's often easier said than done.
Thankfully, Google has made it very easy to pass a URL (or in this case, a webversion link) to their service for translation. Their link format is as follows:
https://translate.google.com/translate?js=n&sl=auto&tl=[language-to-translate-into]&u=[webversion]
… where [language-to-translate-into] is one of these language codes (eg. 'es' for Spanish). So, to add a link for translating an English newsletter into Spanish, you would add:
<a href="https://translate.google.com/translate?js=n&sl=auto&tl=es&u=[webversion]">Leer esto en Español</a>
The result looks something like this:
One drawback is that you have to specify which language you want your email translated into (i.e. you can't leave out a language code). However, you can link to as many languages as you please:
Now, you've got automated translations on your side! Of course, it will always be better to provide a translation provided by a native speaker (and allow new subscribers to select their language on signup, as well), but if you're stuck for words, this may be just the solution you need.
Designing global emails
When it comes to using Google translate or any other translation service/software to translate email campaigns, you'll have to take a few design factors into consideration. Let's look at the top five factors you have to consider in order to avoid your message being lost in translation:
1. Avoid jargon – at all costs
When designing your email for a global audience, you'll have to avoid using jargon at all costs. As advanced as machine learning is, translation software is still far from being able to translate region-specific jargon and idioms into a local language. Besides, jargon is a sure way to lose readers, even those who are in your geographical region. The reason for that is simple—not everyone will understand what you're saying.
2. Consider local design trends
Another factor to consider when designing global emails is the fact that design trends differ across the world. An email design that might wow your American audience may not have the same effect on your Chinese audience.
Besides design trends, there are some elements in an email that can't be appealing to a certain audience. Dynamic content is your savior in this regards as you can set up your email campaigns to display differently in different geographical locations for people with dissimilar preferences.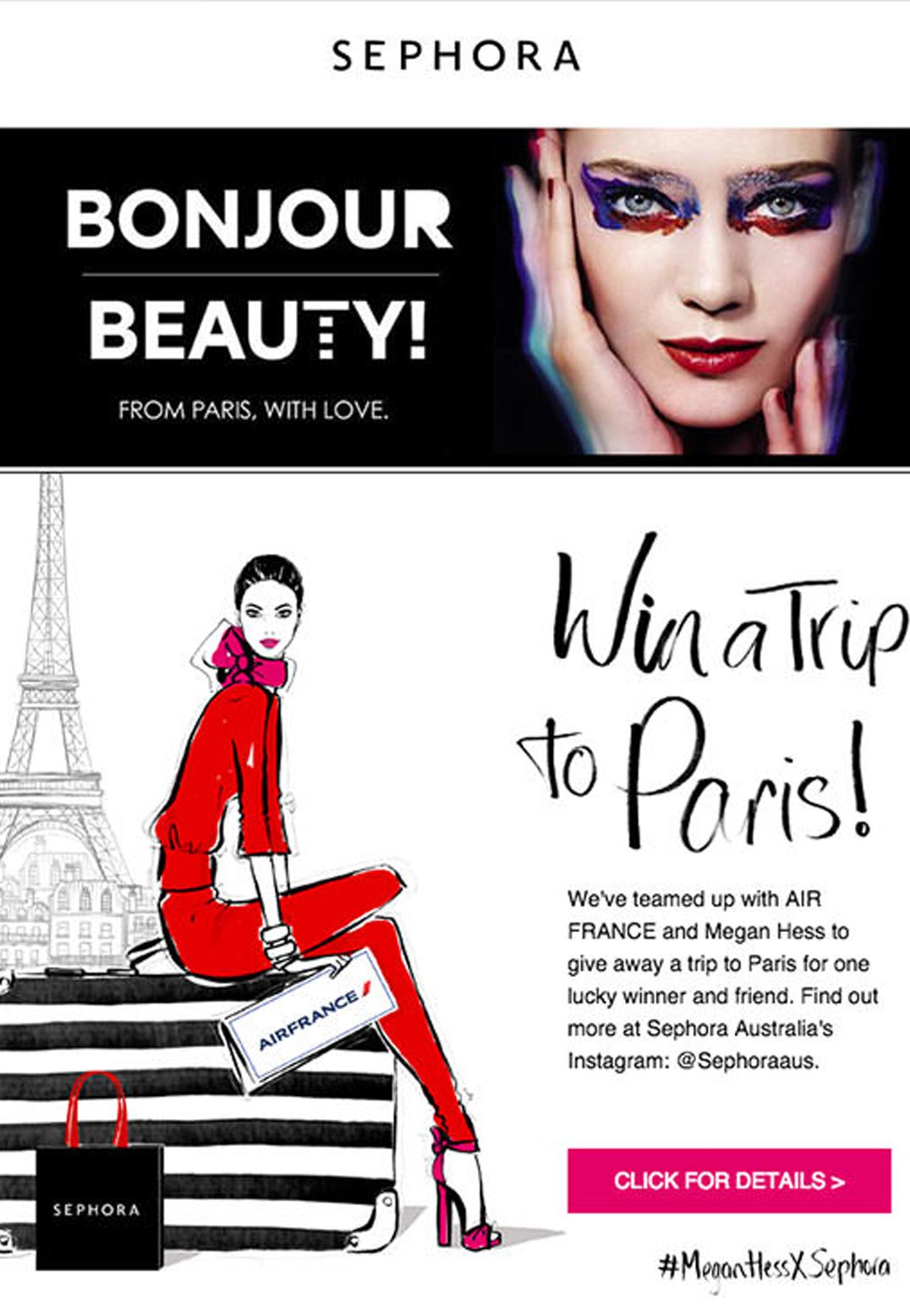 In the example above from Sephora, dynamic content was used to display a very "Parisian" prize. The key to winning with dynamic content is to know your customers well.
3. Keep your emails short, sweet, and simple
When designing an email for a global audience, try as much as possible to keep your message short, straight to the point, and as simple to understand as possible. This will help you avoid common translation problems where one word can be construed to mean something else.
Source: Campaign Monitor
In order to help you achieve this, always have one goal for each email you design. This will help you cut out unnecessary content and get straight to the point. It also simplifies message translation, helping keep the meaning and intent of the message intact.
4. Make sure to watch the world clock
One mistake many email marketers make is sending out their emails at the same time without considering different time zones. To have a greater impact with your global email campaigns, segment your list according to geography. Doing so will allow you to send your emails at a time more convenient to each recipient.
5. Pay attention to special characters and accents
You should already be familiar with the fact that the English alphabet symbols aren't universal. If you want to translate email campaigns into other languages, you will have to be careful with special characters and accents. One symbol out of place has the potential of changing the meaning of your message.
As for your translator service, make sure it's good enough to take care of this issue.
Wrap up
Ready to tackle your international email marketing campaign? Follow these tips to ensure that your campaign does a good job of speaking to your audience without anything getting lost in translation. Another factor you need to consider when dealing with an international audience: local rules concerning the use of email. Check out our article How GDPR Saved Email Marketing to find out more.