If you're using Outlook as your email service provider and are wondering how to export an email list from Outlook, read on for more information. You'll learn how the process works, what it means, and why it's important.
Outlook accounts for 56% of all emails opened on desktop computers
What does exporting an email list mean?
Exporting an email list is the process of downloading an email list from an email service provider (ESP) for the purpose of creating a backup file, sharing, or uploading it to another ESP.
How do you measure the success of exporting your emails?
Since technology doesn't always work the way you want it to, how can you tell if your email list has been successfully exported?
Your ESP should provide this information for you. For example, if you're a Campaign Monitor client, you'll receive a report that shows you how many email addresses have been successfully exported.
How to export an email list from Outlook
How do you go about exporting an email list from Outlook and uploading it to your new ESP?
Export your email list from Outlook
The first stage is downloading your list from Outlook. To do this, you simply log in to your Outlook account and click on "File." In the dropdown menu, select "Import and Export." A dialogue box will pop up with some options—click on "Export to File," then "Next."
The next step will be to select the file type you want to save your downloaded email list as. It's advisable that you choose Microsoft Excel 97-2003 or save your list as a CSV file.
Click on "Next."
Select the folder you want to collect your desired email addresses from and click "Next." Click on "Browse" to choose a location to save your email list in. Next, you'll have to select the fields you require, so you will have to choose "Map Custom Fields."
All the available fields in your file will then be displayed. The next step is very important. Since you only need email addresses and names, click on "Clear Map." You'll then click on the "From" and "To" (address fields) and drag them to the list on the right and click on "OK."
Click on "Finish" and your email list will be downloaded to the location you specified. Your file might end up looking a bit messy, but it's nothing a few edits can't clear up.
Upload your list
Uploading your downloaded email list is easier than downloading it, especially if you're a Campaign Monitor client. Simply go to your account dashboard and create a new list. To upload the contacts in your Excel (or CSV) file to your email list, you can choose to either drag and drop the file from your desktop or simply click the option to upload it.
If, however, you want to add these contacts from Outlook into an existing Campaign Monitor list, you simply click on the list you want to add them to and then select "Add new subscribers."
Your file will be uploaded and you'll then have to match the columns in your Excel file to your subscriber fields, as shown below: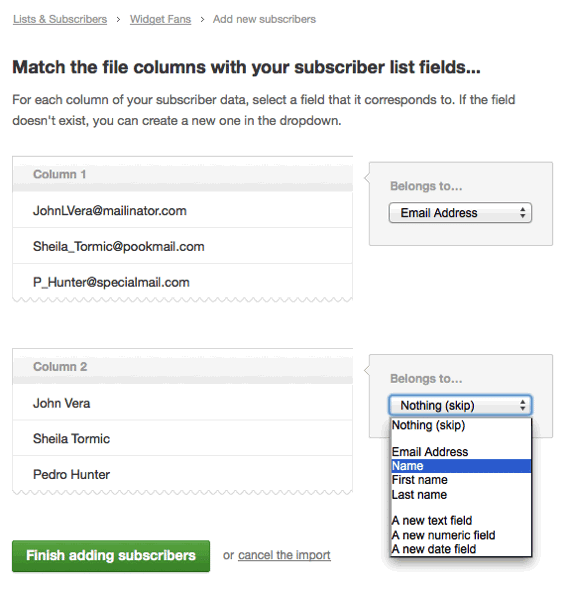 Source: Campaign Monitor
When you're done, click on "Finish adding subscribers." You'll receive a detailed report showing how many contacts were successfully added and how many were unsuccessful (and possible reasons why).
Does it really matter?
Whether you need to back up an email list or migrate from Outlook to another ESP, understanding how to export an email list from Outlook is something you should know if you want to take your marketing to another level.
What now?
Your email list is an important asset that needs to be treasured. Anything that makes it easy for you to maintain and grow it should be prized. For more tips on how you can manage your email list more effectively, check out our article on how to update your email lists for better engagement.