You're putting together the perfect event—you have the best venue scheduled, reputable guest speakers lined up, and top-notch vendors ready to offer their services. You just need to figure out how to promote your event to make it a success.
By simply adopting some email marketing best practices for event promotion, you can put together an effective email campaign that increases event registration.
Your email campaigns will see higher open rates, an increase in click rates, and a boost to your conversion rates. And, with a few tips and tricks, you can encourage your subscribers to spread the word about your event.
Email marketing best practices for event promotion: What you need to know
Whether you're hosting an annual party or putting together the first conference for your company, event promotion is critical for success. Email marketing is still one of the most effective marketing tools available, so using it for event promotion makes practical sense.
Here's why you need to focus on email marketing best practices for event promotion:
Over 75% of event creators pick email marketing as their most effective strategy, with 45% of event ticket sales coming from emails.
Event-related emails generally see a 28% open rate, but increasing the sense of urgency in the subject line or using the recipient's name can significantly increase that number.
While 68% of event creators are content with their email marketing performance, 69% of them admit they're having trouble getting the same results.
You can use email to generate interest long before tickets go on sale, then follow up with campaigns that encourage your subscribers to act fast before tickets sell out or become unavailable.
7 email marketing best practices for event promotion
When it comes to email marketing best practices for event promotion, you want to approach each element of your campaign individually.
1. Generate interest in your event with a launch campaign.
Like product launch campaigns, event launches may start with informational emails letting people know what's coming and when to expect further details. A simple campaign may have a handful of emails that generate interest and invite people to join the event. A more robust campaign may include promotional content and media to create hype. Check out this event launch campaign: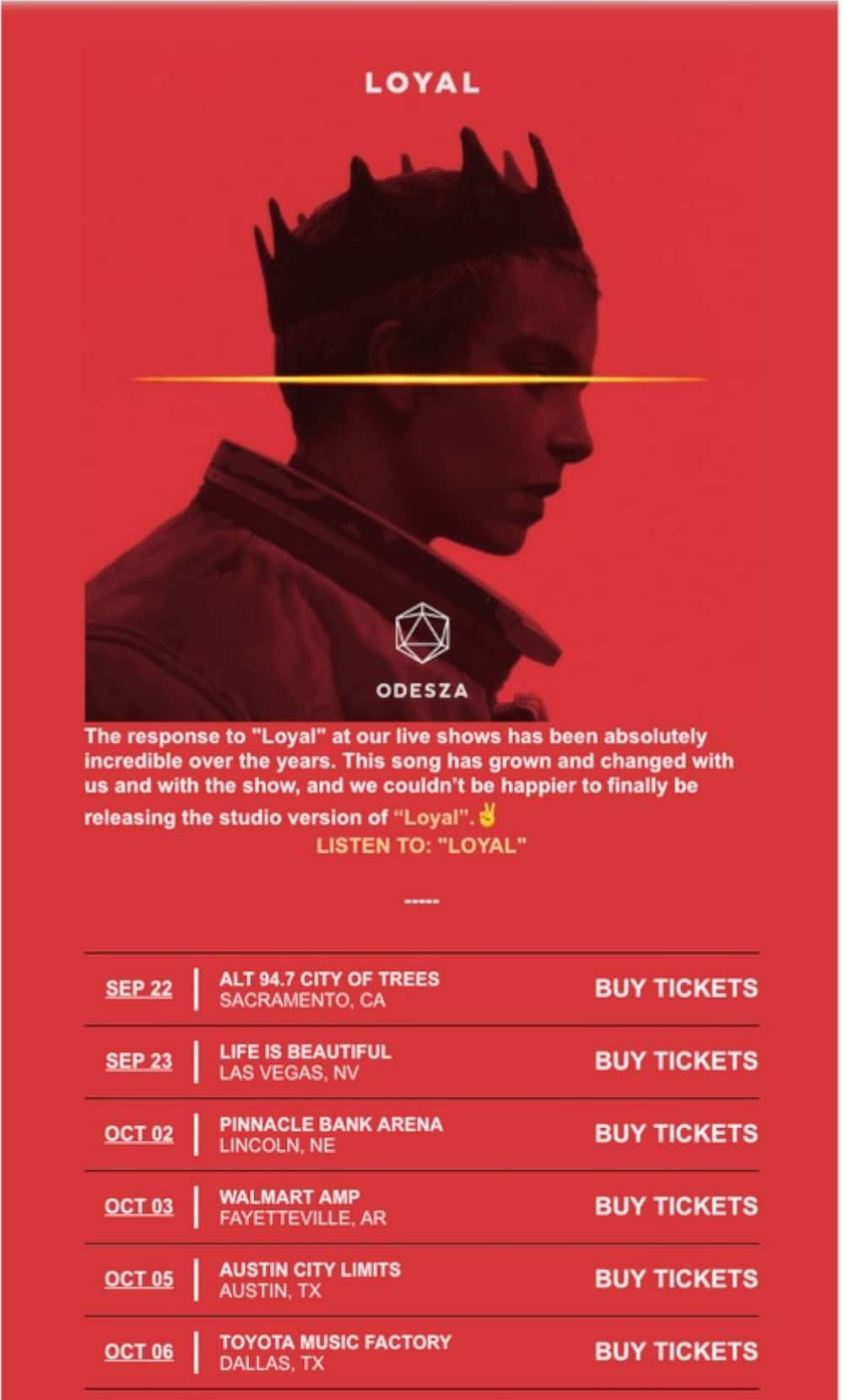 Source: Really Good Emails
Before including the schedule and CTA to purchase tickets, the email points to the success of a recent hit and a new version of it to commemorate the event—the tour. When it comes to offering something new, 66% of online buyers want to purchase from brands they're already familiar with.
2. Invite people to your event with exclusive offers.
If you had a successful pre-launch and want to capitalize on your email list, use exclusive offers to encourage people to sign up for your event. You can stick with something small, like free promotional merchandise, or you can include a discount code with an expiration date to increase the sense of urgency for your subscribers. Take a look at this event promotion with an exclusive offer:
Source: Really Good Emails
By including a discount code that your subscribers need to use quickly, this email motivates people to register early. When it comes to making purchasing decisions, 89% of consumers say that price is the primary factor impacting their decision.
3. Encourage people to share your event by including vibrant content.
While most people don't think about referrals in the context of events, the truth is that a lot of events spread by word of mouth or across social media. Emails that encourage your subscribers to invite their friends and family can increase awareness about your event. Including social media share links is a great way to encourage sharing. Check out this email example:
Without being overwhelming, the email uses vibrant colors and welcoming language that invites subscribers to share with their network. Nearly half of all U.S. consumers rely on their friends and family as a top source of advice on purchasing decisions.
4. Inform people about important details as the event approaches.
There are two types of emails you can send regarding details. The first is an email to people who purchased tickets and need specific details about the event. The second is an email to people who haven't bought tickets yet and need details like price and registration information. A robust campaign may send more than one of these. Look at this email example including event details: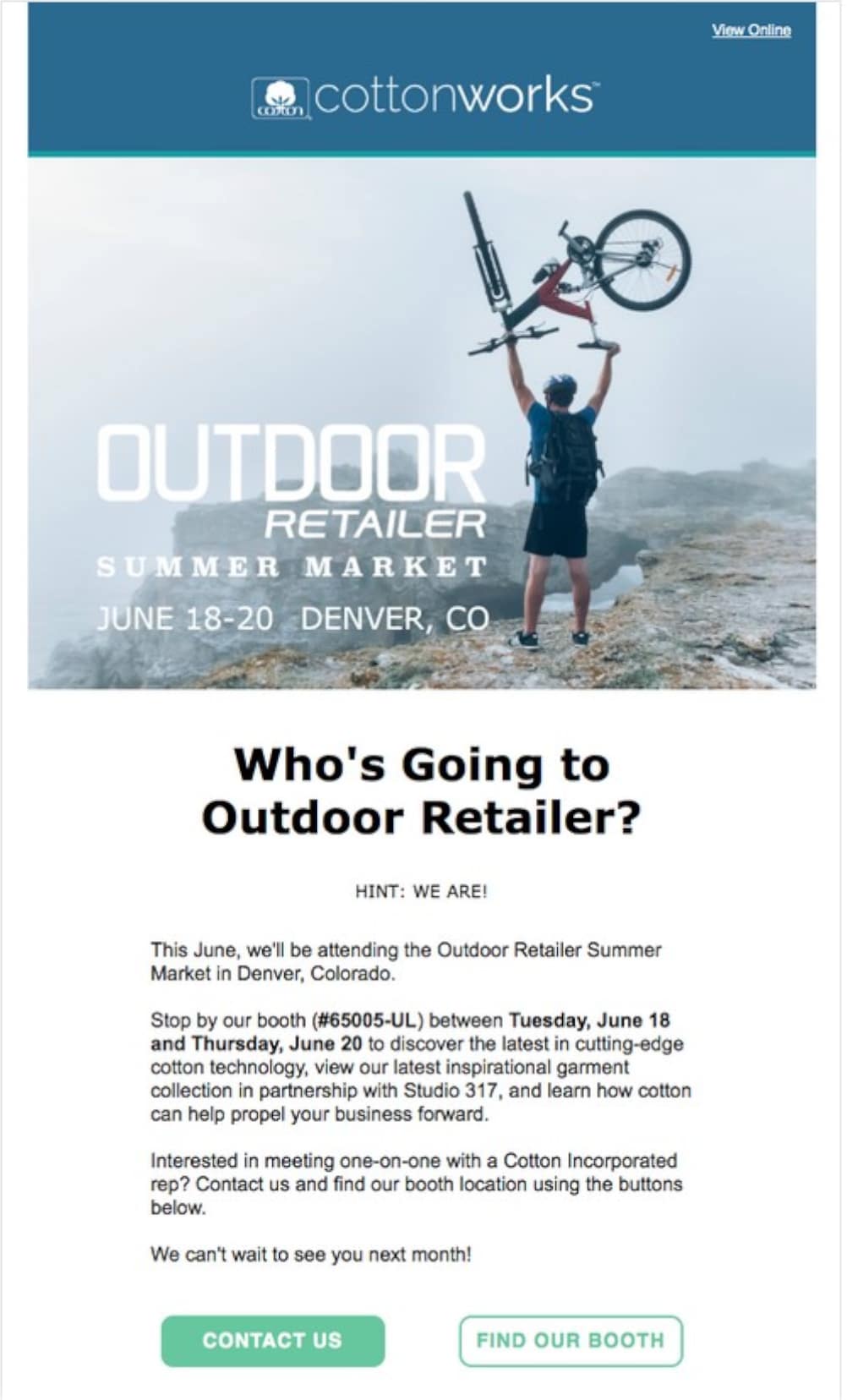 The email includes detailed information about where the retailer will be at an event, plus insight into what they'll have in their booth. As email is one of the most proliferate forms of communication, 85% of event marketers rely on email campaigns for event promotions.
5. Make it easy for people to ask questions about your event.
Even if you send a dozen emails and have a landing page for your event, you're still going to get questions from people who want to attend. In addition to potentially offering an FAQ, highlight your contact form and encourage people to reply to your emails with any questions they have. Post on social media to invite questions. Check out this email example about an in-store event:
Source: Really Good Emails
To encourage people to attend their in-store event, this email focuses on why you want to attend and how you can schedule an appointment. Events like these encourage repeat customers, as 70% of people return after an experiential marketing event.
6. Remind people about your event before critical dates pass.
As the event date approaches, you want to get as many people signed up as possible. That means you need to send reminder emails that include a sense of urgency and a bold CTA that points to registration. For big events, this might mean sending a dozen emails the week of an event. It's also a good idea to remind people who are attending that the event is happening soon. Take a look at this email example:
Source: Really Good Emails
With a simple description of the event and a link that allows people to sign up for the guest list, this email offers a quick reminder to people who may want to know more. When it comes to event registration, 36% of event marketers struggle with promotion the most.
7. Thank people for attending your event in a follow-up email.
After you wrap up a successful event, you want to reach out to your attendees (and your vendors) and thank them for making the event happen. You can use this opportunity to highlight statistics from the event or you can simply offer appreciation and let people know you'll see them again. A thank you email also gives people the chance to offer feedback. Consider this thank you email example:
Source: Really Good Emails
Rather than incorporating event highlights, this thank you email includes a CTA that encourages people to read more about the event. Thank You emails make people feel appreciated, and 70% of purchases are made because of how consumers feel.
Email marketing best practices for event promotion: Tips and tricks
If you want your email marketing best practices for event promotion to succeed, you need to do more than invite people to register and send them details about the event. You need an email campaign that incorporates some of the most effective tips and tricks.
Focus on these email marketing best practices for event promotion to increase engagement:
Use email personalization to increase open rate. Eighty-two percent of marketers say they've seen an increase in open rates since using email personalization.
Aim for the right send days and times: Though it'll vary by industry, Tuesdays and Fridays are generally the best days to send emails.
Try email marketing automation: Automated emails get 119% higher click rates than emails that aren't part of your automation workflow.
If you use the right tools and email marketing best practices, you can improve open rates, increase click rates, and ultimately see more people at your event.
Wrap up
When it comes to email marketing best practices for event promotion, it's important to employ all of the techniques. The more effort you put into your event campaign, the better your email performance will be. Remember these tips when putting together your next event promotion:
Pre-launch emails build hype for your event. Send them to let people know when to expect details about the venue and registration.
Informational emails help increase registration. The more people know about an event, the more likely they are to commit to it.
Email marketing tools can boost engagement. To spread the word about your event, marketing automation has built-in best practices.
You can put together an effective event promotion if you follow these email marketing best practices.
Looking for a marketing tool that enhances email automation? Campaign Monitor offers a variety of features to optimize your event promotion campaigns.