Managing an email list is an aspect of email marketing that every marketer has to be proficient in.
One of the skills of this duty that is often overlooked is knowing how to copy a list of email addresses.
Active email accounts are projected to reach 5.6 billion by the end of 2019
What is an email list?
An email list is a collection of contacts that you collect from interested individuals for the purpose of sending them informational and promotional emails, and you need to have their express permission in order to do this. The best way to ensure you have their permission is to have them subscribe to your email list.
How to measure the metrics of your copied email list
Just like all your other email lists, it's easy to track the performance of the list of email addresses you copy into your email service provider. As a Campaign Monitor client, tracking your emails is easy with our Google Analytics integration.
Why do you need to copy a list of email addresses?
There are many reasons why you will need to copy entire email lists. For example:
Sharing data
There are times when you may need to share an email list internally. For instance, you may share your list with an intern given the responsibility of sending emails to that list. Copying the list is the best way of sharing the email addresses they need.
Creating a new campaign
At times, you may want to create a new campaign to send to a particular list. Again, copying the list into your new campaign is an easy way of adding a contact list to the new campaign.
Merging two lists
Copying an email list is a handy way of merging two lists together that you want to send the same campaign to. This is much more efficient than creating a new list from scratch.
How to copy a list of email addresses
How do you go about copying a list of email addresses? Read on to learn how, or watch the video below for a quick guide.
From a spreadsheet
The first step is to prepare your spreadsheet. Do this by defining your content and using the correct header rows for each column of your spreadsheet. The most common header values accepted by email service providers are "Email," "Email Address," "Name," "First Name," and "Last Name," among others.
Make sure that all the contacts you want to copy are on the first page of your Excel sheet. Once these preparations are done, go ahead and save your spreadsheet.
In order to upload the contacts to your email list, go to your account dashboard and click on the list you want to add them to. You can then either drag and drop the spreadsheet to the list or choose the option of uploading the file.
Finally, match the columns you have copied to the relevant fields and click on "Finish adding subscribers."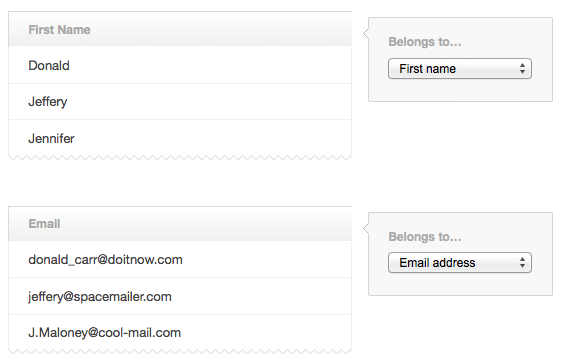 Source: Campaign Monitor
You will then get a report that will notify you of how many subscribers were successfully copied and how many were unsuccessful.
To another list
In order to copy one list to another, first, you will have to download a copy of the list you want to copy into your master list and save it as an Excel or CSV file. Once you've done that, you can simply follow the steps outlined above to copy it into your master list.
Does it really matter?
Knowing how to copy a list of email addresses is something you need to know if you manage an email list. It makes it easy for you to share lists internally, when necessary, or manipulate your email lists to suit each campaign.
List management is an integral part of email marketing that every marketer needs to master, and copying email lists plays a role in that.
What now?
While you may not need to copy your email lists every day, you'll be glad you know how to do it when the time comes. If you need more list management ideas that go beyond how to copy a list of email addresses, check out our article on list management best practices.