Campaign Monitor makes it easy to customize every email you send. With the drag-and-drop builder, you can create beautiful email campaigns that are completely responsive to every device and email client.
You can also incorporate social media icons into the body of your email. Campaign Monitor has made it simple for brands to incorporate social media into their email strategy. It's as simple as drag, drop, and customize.
Log into your account and start designing a new campaign. You can choose from premade customizable templates, drag-and-drop from scratch, or code your own design.
Adding social media channels to your email footer
When using the email builder, you can drag and drop a "Social links" content block into a section column, and then customize the URL, size, color, shape, layout, and alignment of the social link buttons. This can be a great way to promote your brand through your social channels wherever you need inside of your emails.
Next, look for "Links" in the left sidebar and tick off the checkboxes for the social media channels you want to include. After that, you'll need to paste in the URLs to your social media accounts in the corresponding box. You'll be able to add as many channels as you'd like and reorder how they appear.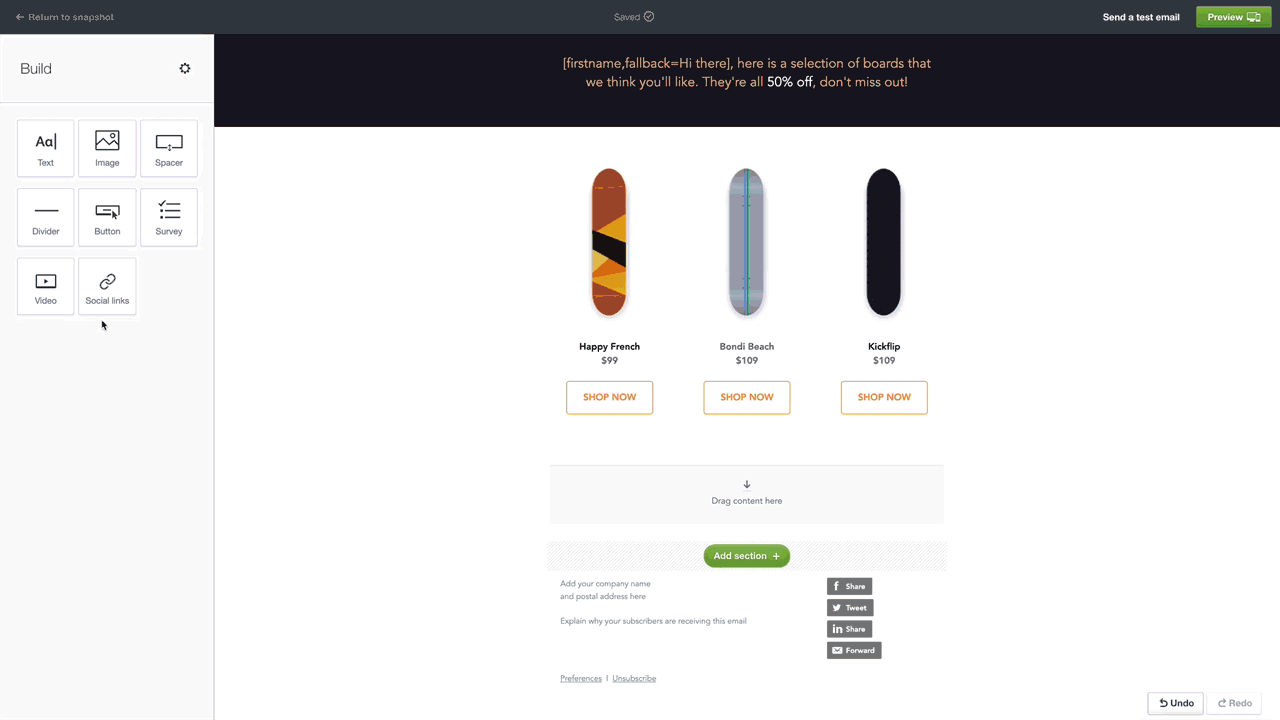 Manually upload your social icons as images above the footer.
You can also upload the images manually and include a link to your company's social media profiles. Download images from the respective platforms, or create your own, and upload them as image blocks. Then, add a link to each image, and the subscriber will be taken to that platform when they click on the image.
While you can't upload images directly to the footer in Campaign Monitor, you can add them just above the footer. Make that section the same color as the footer to transition seamlessly. Alternatively, you could change the background color and draw more attention to the custom social icons.
What else should you include in your email footer?
It's essential to include the basics in every email footer: your company address, disclaimers, an unsubscribe link, and possibly a privacy policy about your data collection.
In terms of social sharing, you could also include links that allow your subscribers to share the email campaign on their favorite social media account. Simply click on the footer and select "Share this email" and choose the appropriate social channels.
How to test and measure the social links in your email footer
Before sending your email, you'll want to test the social share links just to be sure they work and lead to the correct destination. Campaign Monitor makes it easy to test all of your links on the Preview page. You could also send a test email to your own email address and click the links yourself.
After you've sent the email, you can start tracking the results to see if your subscribers are clicking your social profiles. Log into your Campaign Monitor dashboard and click on the campaign you want to track. From here, you'll be able to see exactly which links people clicked inside the email.
You could also use special integration tools to figure out which subscribers already follow you on social media. Check back to see if your email subscribers are using the links to connect with your social media accounts after clicking the link.
Does it really matter?
You want to provide as much engagement potential as possible. Including social share buttons helps give your subscribers different ways to contact you and absorb information from your brand.
While email is essential, it's also crucial to integrate your marketing efforts across multiple platforms.
There are 2.62 billion people using social media globally. That number is expected to increase to over 3 billion by 2021. Email is definitely the most valuable channel for building relationships with leads, but you always need to meet your audience where they hang out—and they also hang out on social media.
By 2021, an estimated 3.02 billion people will use social media worldwide.
Number of social media users worldwide from 2010 to 2021 (in billions)
Source: Statista
What now?
Now that you understand how to include social media icons in your email footer, you can decide which icons to include. Consider personalizing your campaigns. Do certain portions of your audience prefer Pinterest, while others use Twitter? You can create unique email footers for each segment of your subscriber list with relevant social share links.
Are you interested in learning more about integrating your email marketing efforts with other platforms? Read this Campaign Monitor post to learn the basics about integration and why it matters.